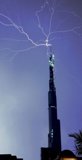 The end of the lightning rods must be located, at a minimum, two meters above the zone it protects (including antennas, cooling towers, cellings and deposits)
The receiving antennas (TV, radio, telephone) must be connected by means of spark gaps to the down conductors of the lightning rod installations.
The coaxial cables of the antennas must be protected with a device against surges.
The metallic elements that rise above the roof should be connected to the closet down conductor.