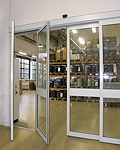 When Every Second Counts
In every position, all door leaves can be swiveled out manually.
This results in a maximum passage width, immediately.


When Safety is Twice as Important
Apart from the standard safety -sensors, further precautions are taken for safeguarding people. Safety conformant clearances, but also round profiles prevent the jamming of fingers.

When Additional Benefits are in Sight
If all door leaves are swiveled out and pushed together, an opening of 95 % width of the total width is achieved.
During the day, such doors are not noticed at all and at night they still offer the necessary protection.


When the Design Is also Pleasing
Even for a door that is completely -focused on safety, aesthetics does not come off badly. Slim, timeless profiles are an evidence of this