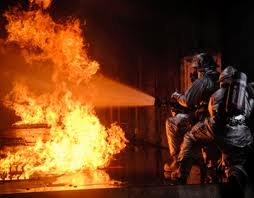 Fire protection is the study and practice of justifying the unwanted effects of fires.

The fire is detected either by locating the smoke, flame or heat, and an alarm is sounded to enable emergency evacuation as well as to send out the local fire department.

Fire can be controlled or extinguished, either manually (firefighting) or automatically (fire suppression).

Manual includes the use of a fire extinguisher or a Standpipe system.

Automatic means can include a fire sprinkler system which is installed at ceiling level and are connected to a reliable water source in all types of buildings. Or it can be a gaseous clean agent, or fire fighting foam system… Automatic suppression systems would usually be found in large commercial kitchens or other high-risk area.


Class Description
A Fires in ordinary combustibles such as wood, cloth, paper, rubber, and many plastics.
B Fires in flammable liquids, oils, greases, tars, oil-base paints, lacquers, and flammable gases.
C Fires that involve energized electrical equipment.
D Fires of combustible metals, such as magnesium, titanium, zirconium, sodium, lithium, and potassium.
K Fires that involve cooking appliances with flammable cooking oils and fats, vegetable or animal.